The Mohawk Trail & Native Americans
Although most early auto trails in the Berkshires followed Native American pathways, only the name of the Mohawk Trail recalls this historical fact. Perhaps because of this, several tourist shops along the trail have associated themselves with Native imagery and offered Native goods. There were businesses whose names were evocative: Cambridge Wigwam Cabins; Indian Encampment, Indian Park, Indian Trading Post, and Indian Village; The Mohawk Tepee, Mohawk Trading Post, Totem Trading Post, The Wigwam. A few of these are still in business. The Native goods have ranged from authentic to toy imitations.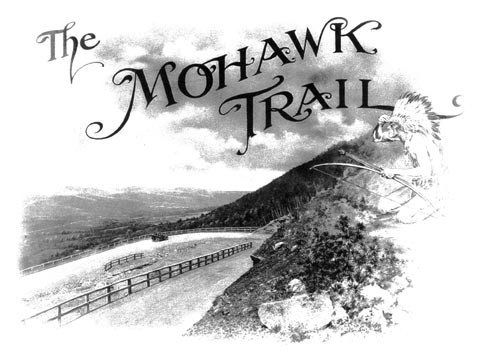 This imagery of the Mohawk Trail was typical during most of the twentieth-century.
Note the automobile on the Hairpin Turn.
-- from an Albertype souvenir booklet cover, 1914
Da-Pah - Navajo artist
Da-Pah was an established Navajo artisan from the small town of Coolidge, New Mexico near Gallup. Both of these towns were in the Navajo region. Gallup was a commercial center, which after the opening of U.S. Highway 66 in 1926, became popular with tourists especially those seeking Navajo and other Native arts. Da-Pah was featured on a 1931 postcard making silver jewelry using traditional methods at his hogan. He was also accomplished at "sand painting".

Da-Pah connected with the owners of Indian Plaza, who were looking for quality Native goods for their store. Indian Plaza opened in 1933 and carried a wide array of Native arts from pottery, rugs and jewelry. They invited him up every summer through the 1940's, where he would work on site. In addition to jewelry, he constructed a hogan (still standing), and a Yei-ba-chai sign (1947, no longer standing). In 1938, Da-Pah brought his wife Es-Than-Chi, a weaver, and his niece Ah-He-Hah-Bah, and her brother, Hus-Ka-De-Yah. Hus-Ka-De-Yah (also apparently known as Louis) was a singer and hand drummer, who joined him for many years thereafter.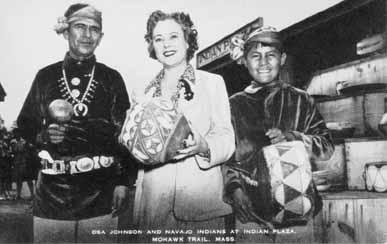 Da-Pah, Osa Johnson, and Louis. Osa Johnson was a famous adventurer
who filmed native wildlife and peoples in Africa and the Pacific islands.
Note Da-Pah's silver necklace and belt. Da-Pah is wearing a concha belt,
and silver necklace of squash blossoms and at the bottom, a crecent-shaped
"nazha" for good luck.
-- Artvue postcard, circa 1941
(also reprinted in The Mohawk Trail Guide)
He apparently also spent time "in Hartford, Conn. and Boston, Mass. exhibiting and depicting Navajo arts." James Dapah, as he was known in later life, died in 1977 in Continental Divide, New Mexico, where he lived, at the age of 82.
We would be interested to learn more about Da-Pah and Louis. Please contact us at research@ muddyriverpress.com.
Chief Wolf Robe
The Cheyenne leader who many believe was the model for the Buffalo nickel. His profile appeared on a Staffordshire souvenir plate of the Mohawk Trail. The same image also appeared as part of a postcard series not related to the Mohawk Trail. Since he apparently died in 1910, he had no connection to the Trail, so this image was chosen for its iconic value.
Indian Village
Location unknown. J. R. Hillard, Manager.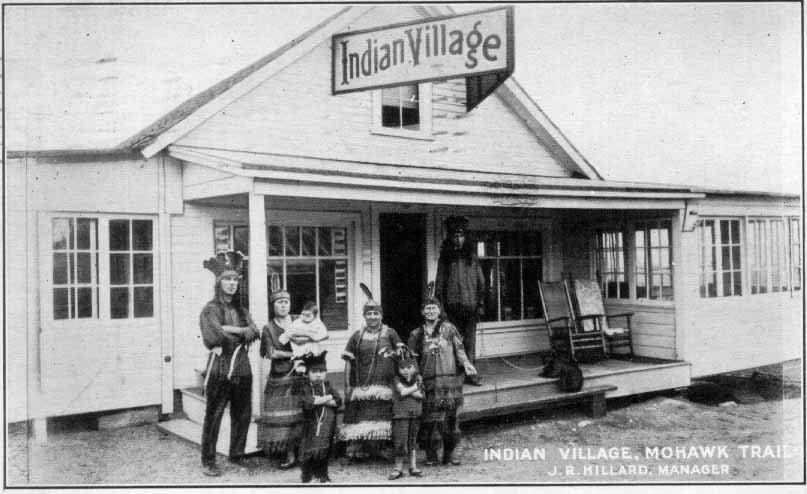 This is one of two scenes that feature a Native group at this tourist business.
A descendant has informed us that this shows various members of the Tomah family.
Further information welcome.
-- Anonymous postcard, postmarked 1925
For more images of the Mohawk Trail, see the Mohawk Trail Photo Gallery.
Copyright 2007-2008 Muddy River Press. All Rights Reserved.